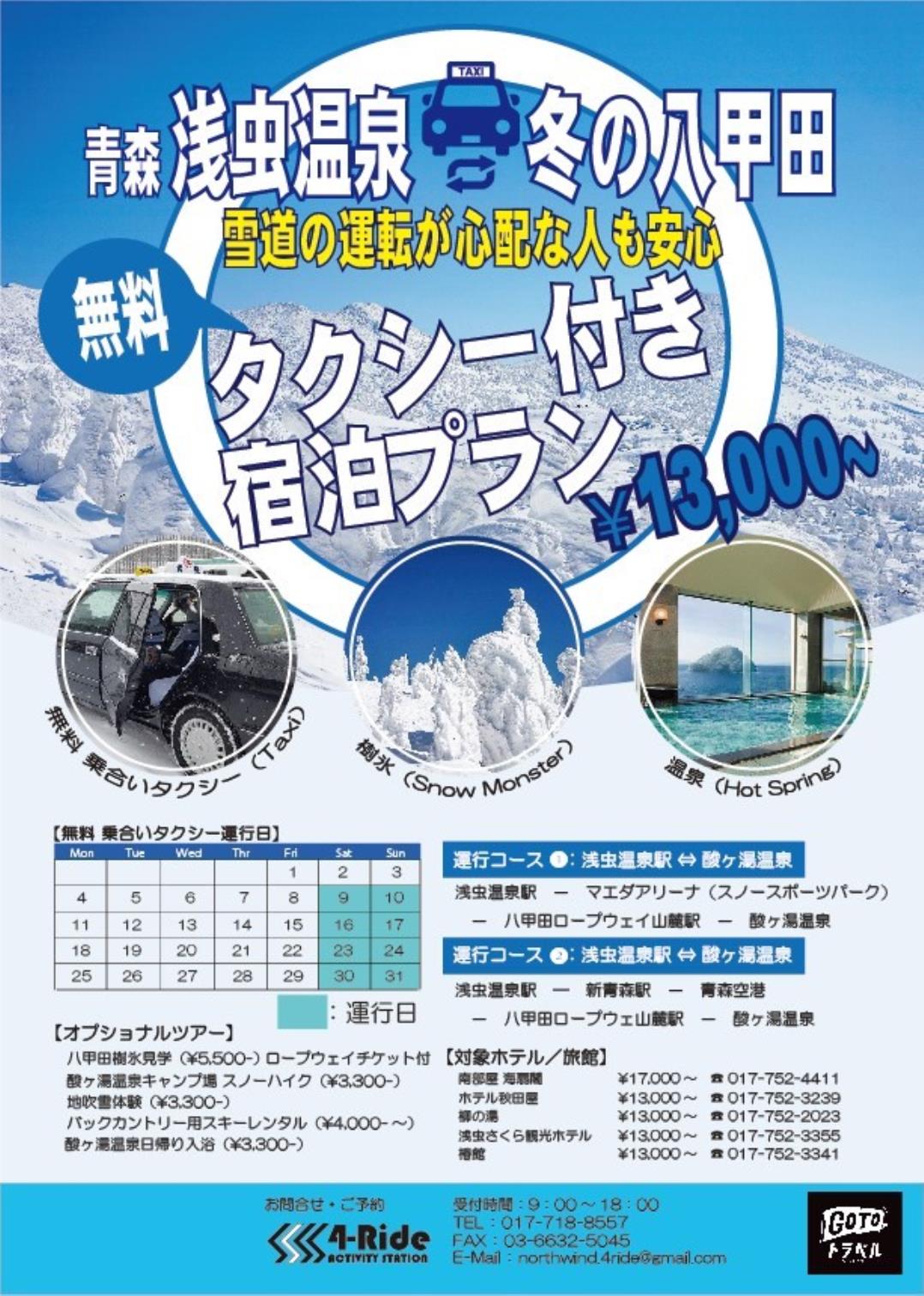 浅虫温泉駅~新青森駅~青森空港~酸ヶ湯温泉コース
青森浅虫温泉冬の八甲田 無料タクシー乗車付宿泊プラン
Overview

Aomori Asamushi Onsen Winter Hakkoda

Safe for people who are worried about driving on snowy roads
Accommodation plan with free taxi ride
You can board when you stay at the target accommodation!

= Products targeted for GoTo Travel Business =

[Target accommodations and accommodation charges]
Nambuya Kaisenkaku 17,000 yen / person
Hotel Akitaya 13,000 yen / person
Yanagi no Yu 13,000 yen / person
Asamushi Sakura Kanko Hotel 13,000 yen / person
Tsubakikan 13,000 yen / person
* Price before discount for GoTo Travel Business.
* Regional coupon will be given separately.
Overview
[Operating course]
Asamushi Onsen Station-Shin Aomori Station-Aomori Airport-Sukayu Onsen

[Free taxi service days]
2021/1/9, 10
2021/1/16, 17
2021/1/23, 24
2021/1/30, 31

Notes
・ Two people can apply in one room.
・ Payment will be the price after GoTo Travel discount.
・ Please contact us if you wish to stay for other than 2 people.
Part of this page is translated by machine translation API.
You can see the original information(Japanese).
Event and ticketing information
Date

2020/12/02(Wed) ~

2021/01/30(Sat)

Price

16,900

JPY ~

22,100

JPY(tax included)

Contact

4-Ride
TEL: 017-718-8557 (Only in Japanese.)

---
Quick index of classification and regions
SEARCH
Performance category
Location region
---
Past related ticket List
---