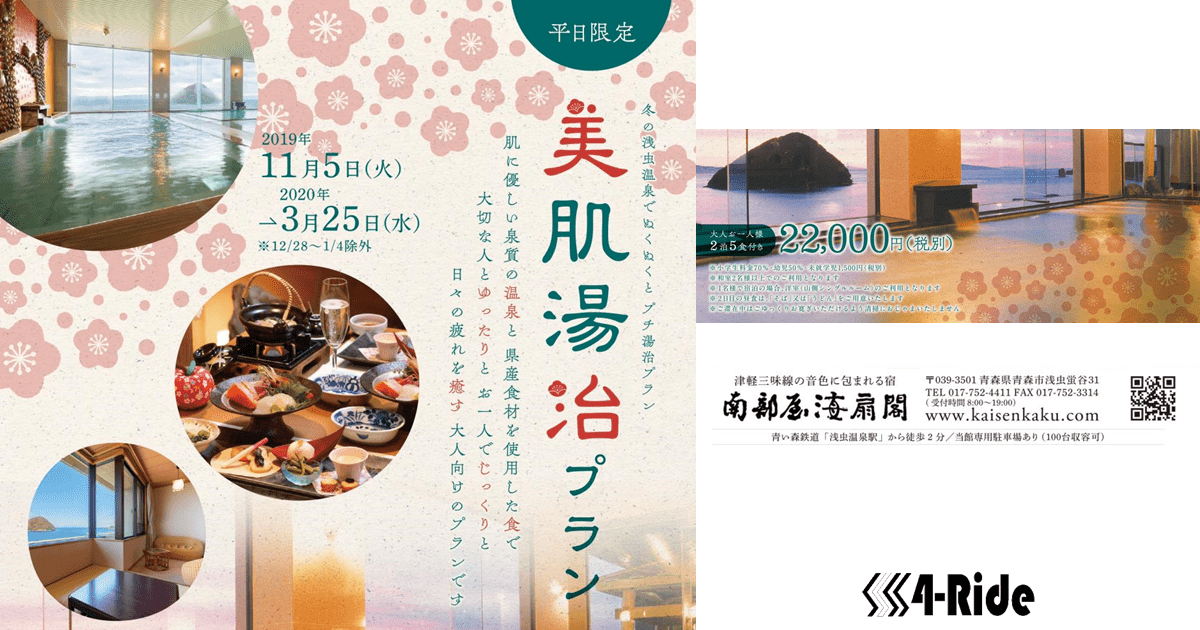 Warm and warm Petit hot spring plan at Asamushi Onsen in winter
A hot spring plan that makes your skin beautiful.
冬の浅虫温泉でぬくぬくと プチ湯治プラン
海扇閣 美肌湯治プラン
Overview

This is a great value plan for adults who get tired daily with a hot spring that is gentle on the skin and a meal that uses ingredients from the prefecture.

Warm and warm in the hot spring ...
In addition to dinner and breakfast, lunch included (snacks)
How about a petit hot water treatment to warm up your cold body ♪

For dinner, you can freely enjoy appetizers using the specialties of Aomori, fresh seafood, and main dishes such as "steak", "Tempura" and "appetizer".
You can also enjoy colorful salads, sweets and desserts that you like.
* We have special items that match the season.
部屋 Room ━━━
◆ Japanese-style room 14.5 tatami non-smoking only
━━━ Meal ━━━
◆ Dinner… Japanese half-buffet / restaurant
The time will be announced at check-in.
17: 30-21: 00 (order stop 20:30)
The time may be adjusted depending on the day.
Part 1: 17: 30-19: 00
Part 2: 19: 30-21: 00
* The dinner start time at the time of adjustment will be announced in order of arrival. Please note.

◆ Breakfast ... Japanese and Western buffet
(May be provided on the set menu)
7: 00-9: 00 (last entry 8:30)

◆ Lunch… Udon snack

Please note that there is no refund for any meals you no longer need during your stay.

--Privilege--
・ After dinner, you can enjoy the famous Tsugaru Shamisen live.
・ Coffee service after check-out (lounge on the first floor)
・ Warm socks available in your room
・ Discount tickets for Asamushi Aquarium at the front desk
・ Pick-up and drop-off service to "Asamushi Aquarium" (* Please check the time at the front desk on the day)

Notes
Please apply with 2 or more people
Part of this page is translated by machine translation API.
You can see the original information(Japanese).
Event and ticketing information
Location

KAISENKAKU(Aomori Aomori)
海扇閣(青森県 青森市)

Date

2019/12/24(Tue) ~

2020/03/25(Wed)

Price

12,100

JPY ~

25,850

JPY(tax included)

Contact

4-Ride
TEL: 017-718-8557 (Only in Japanese.)


Period of Sale

2019/12/11(Wed) 10:00 ~

2020/03/24(Tue) 23:59
---
Recommended related ticket list
---
Quick index of classification and regions
SEARCH
Performance category
Location region
---
Past related ticket List
---