Shall we drink with "Dazai" in the space between dreams and realities, "Okutsugaru"?
Tsugaru Railway Highball Train
夢と現実の狭間・奥津軽で太宰と飲む
津軽鉄道ハイボール列車
Overview

With Ginza Rockfish, Kazuma Maguchi
Delicious highball on Tsugaru Railway!

Ginza's Hikara. If Dazai was alive in the present era, you would probably go there a lot, along with Mr. Maguchi, the owner of "Rock Fish", one of the most popular bars in Ginza. Journey.
Please enjoy the original Tsutetsu highball train knob designed by Mr. Maguchi.

■ Time schedule
11:45 Tsugaru Goshogawara Station set
12:15 Departure from Tsugaru Highball Train (to Tsugaru Nakazato Station)
14:25 Arrive at Tsugaru Goshogawara Station

7,000 yen per person (tax included)
No tickets will be shipped.
Please come directly to the site on the day.

Target: Adult

What kind of person is Mr. Maguchi?
Click here for "Website of Ichigo Maguchi"
Click ↓

Precautions
If you are paying in cash, please pay on-site.
Please refrain from bringing alcoholic beverages.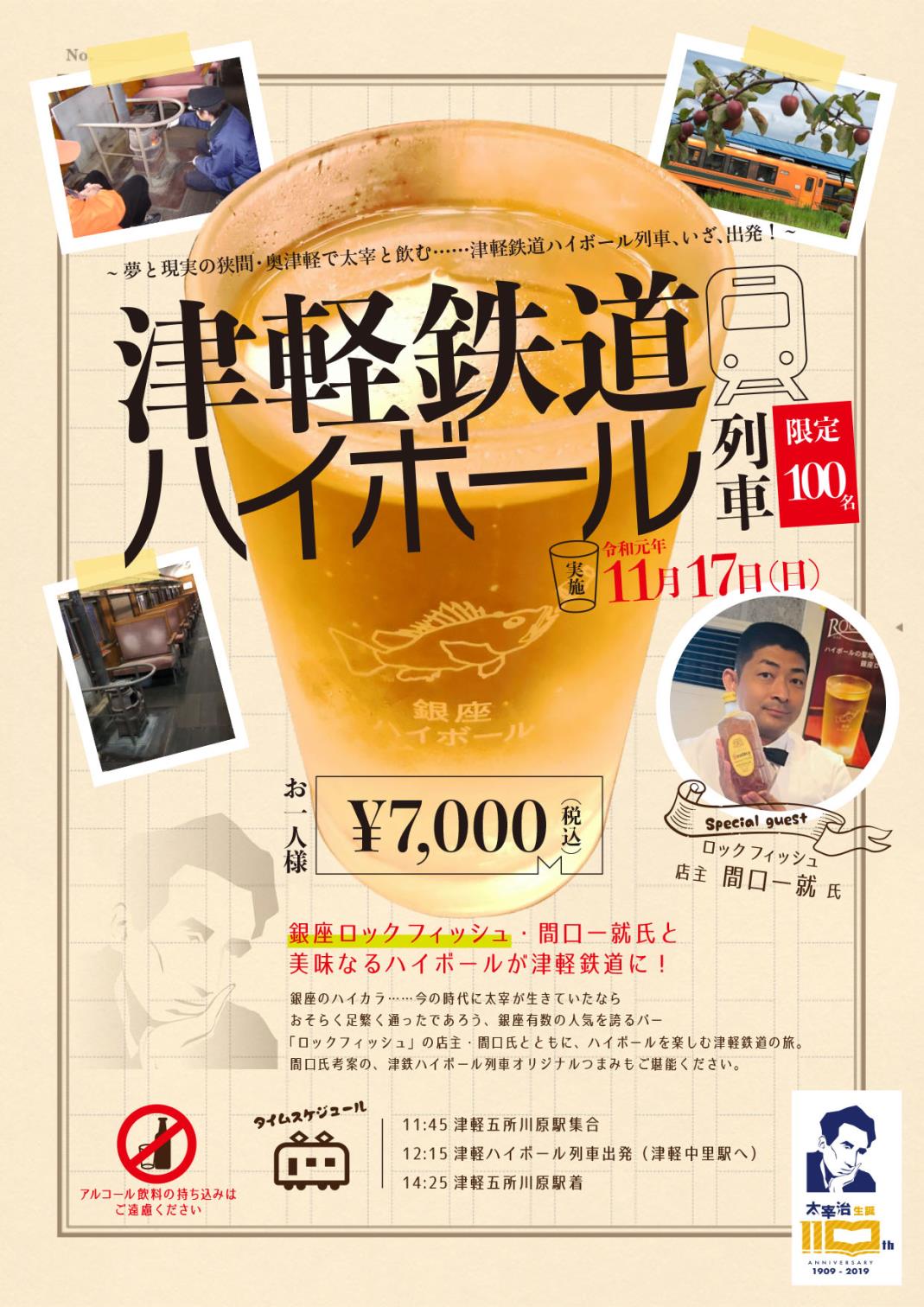 Part of this page is translated by machine translation API.
You can see the original information(Japanese).
Event and ticketing information
Location

Tsugaru Railway Goshogawara Station(Aomori Aomori)
津軽鉄道 五所川原駅(青森県 青森市)

Date

2019/11/17(Sun)

11:45

Price

7,000

JPY(tax included)

Contact

4-Ride
TEL: 017-718-8557 (Only in Japanese.)


Period of Sale

2019/10/03(Thu) 10:00 ~

2019/11/16(Sat) 23:59
---
Quick index of classification and regions
SEARCH
Performance category
Location region
---
Past related ticket List
---