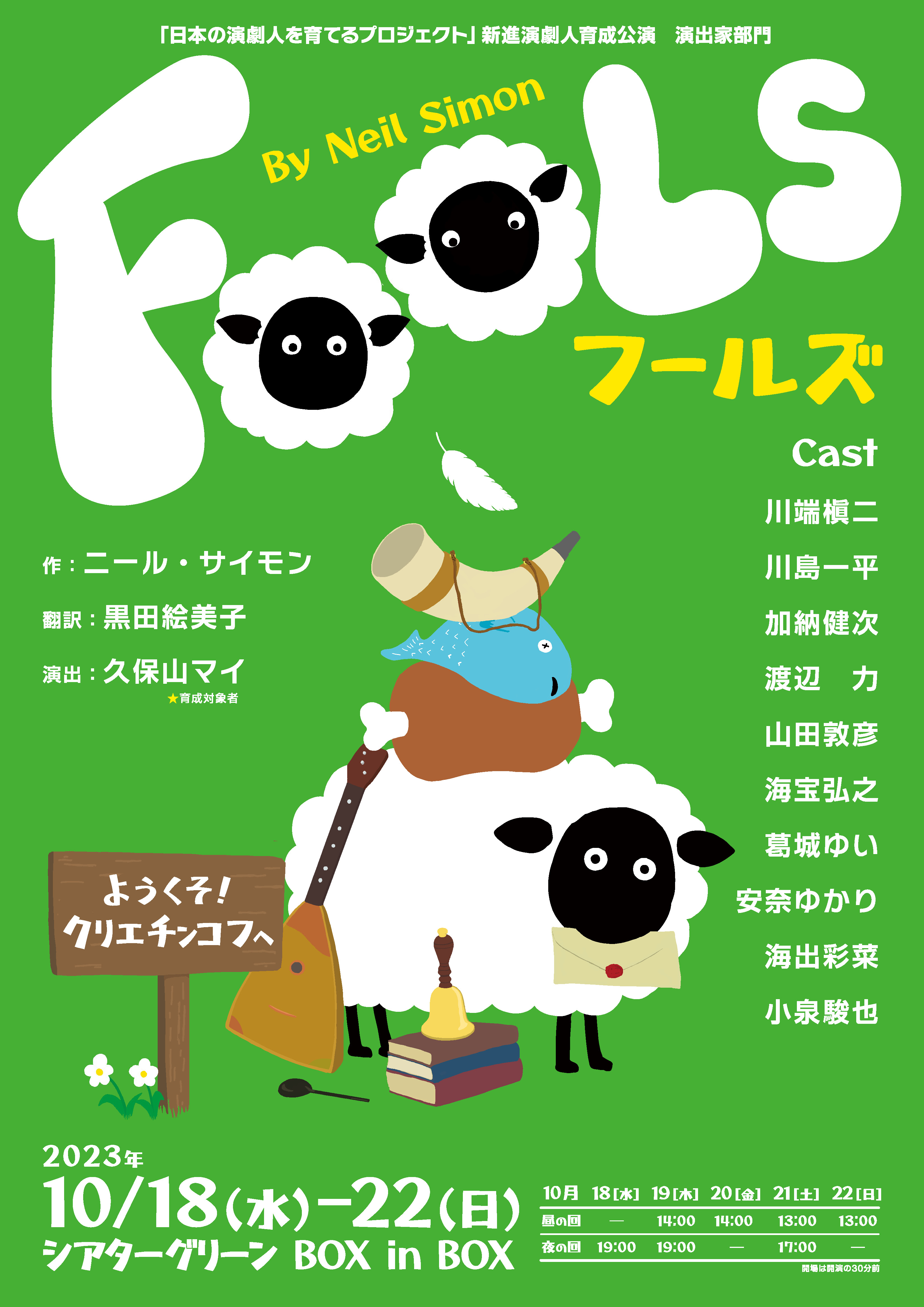 公益社団法人日本劇団協議会主催・制作 「日本の演劇人を育てるプロジェクト」 新進演劇人育成公演 演出家部門
フールズ
◆Synopsis◆
The setting is the end of the nineteenth century. A countryside in Ukraine. A young and bright teacher, Leon, comes to Kryenchikov village as a teacher. Though he is on a mission to educate his people, he soon discovers that the village is strange. The fishmonger sells flowers, the mail never reaches its destination, and the villagers declare that there is no such thing as love. Due to a strange curse placed on them 200 years ago, they are said to be stupid and irrational... Will Leon be able to become a hero who brings intelligence and reason...!? ?
◆Introduction◆
Neil Simon prides himself on being a writer of human comedies and has a unique style of writing about humans. He is also known as a writer who writes not only comedy but family dramas set in the city. Many of his works depict the subtleties of the human heart and leave a warm aftertaste. However, "Fools" can be said to be a unique work drawn with a completely different brushstroke. The story is fairy tale-like and colorful.
Characters do not exist with half-baked and realistic modeling. However, it is a work that can not be overlooked that can feel Simon's dreadfulness, which has established a world view that can be said to be nonsense.
Japan Theater Association http://www.gekidankyo.or.jp/performance/2023/2023_04.html
Gekidan NLT http://www.nlt.co.jp/stage/fools/index.html
◆Rehearsal scenery is being updated! ◆ NLT Official Twitter
Part of this page is translated by machine translation API.
You can see the original information(Japanese).
Event and ticketing information
Date

2023/10/18(Wed) ~

2023/10/22(Sun)

Price

4,000

JPY ~

5,000

JPY(tax included)

Contact

劇団NLT
TEL: 03-3563-6048 (Only in Japanese.)


Period of Sale

2023/08/22(Tue) 11:00 ~

2023/10/22(Sun) 12:00
---
Recommended related ticket list
---
Quick index of classification and regions
SEARCH
Performance category
Location region
---
Past related ticket List
---