T-gene stage「MOMOTARO」
overview

The 5th T-gene stage!

[Story]
This is an old story that everyone knows...?
Dan, who works for an app game company, has been working at the company for two years.
Recently, app games are more portable than home video games, and anyone can easily get their hands on them anywhere and start easily, so business performance has increased, and the market size has expanded to 212.8 billion yen in the first half of 2020.
Therefore, the competition is fierce.
In the midst of these rough seas, Dan decided to turn the story of Momotaro, which his mother had read to him long ago, into an app game.
Everyone knows Momotaro...
This is a new "MOMOTARO" story that no one knows.
[Schedule]
5/24 (Wed.) ~ 5/28 (Sun.) 〈9 performances in total〉
24th (Wed) 19:00
25th (Thursday) 13:00 / 18:00
26th (Friday) 13:00 / 18:00
27th (Sat) 13:00/18:00
28th (Sun) 12:00/16:00
*☆ There will be a talk show after the performance (speakers will be announced at a later date)
* There will be a mini-live after the performance
[Cast]
Tomoo Yoshida Fumiki Kuroki
Goro Takeishi
Lotus Ujiie
Kentaro Kawai
dragon man
Kenichi Yumoto
Shinichiro Ueda
Yuta
Takashi Asami
Rei Kobayashi
Endo Shizuka
Haruna Wakamatsu
Kazuhiro Nakajima
Teppei Yamashita
Nana Hanasaki
Zushi Mitsuhiro
Goki Agata
Zenichi Hashimoto
[Ensemble Cast]
Ryota Kobayashi
Ryuhei Shimizu
Daichi Nishiyama
Naoya Hashimoto
[Guests]
5/24 (Wed) Takuto Igarashi
5/25 (Thursday) Naoya Akama
5/26 (Fri) Tanaka Akira
5/27 (Sat) Riki Yamane
5/28 (Sun) Koji Okino
[STAFF]
Script/Director: Akira Tanaka
Lighting: Momoko Ohno
Sound: Shinya Tanaka
Art Design: Yasuko Aichi
Costume: Sayuri Nishida (Ns costume)
Costume progression: Kaiyu Kobayashi
Costume production: studio BABOON, Sho Hara
Makeup: Emiko Matsumae
Sword Fighter: Koji Okino
Special modeling: Shota Soeda
Music production: Yutaro Ukawa
Visual still photography: Akira Hashimoto (gekichap)
Stage Director: Kazuyuki Arai, Yasunobu Kitajima
Production assistant: Kazuhiro Nakajima
Production Chief: Nozomi Okawa (Okawa Kikaku)
Producer: Akira Tanaka
General Producer: Kazunari Tanaka
Organizer/Production: T-gene stage
[Performance website]
https://stage.t-gene.com/momotaro/index.html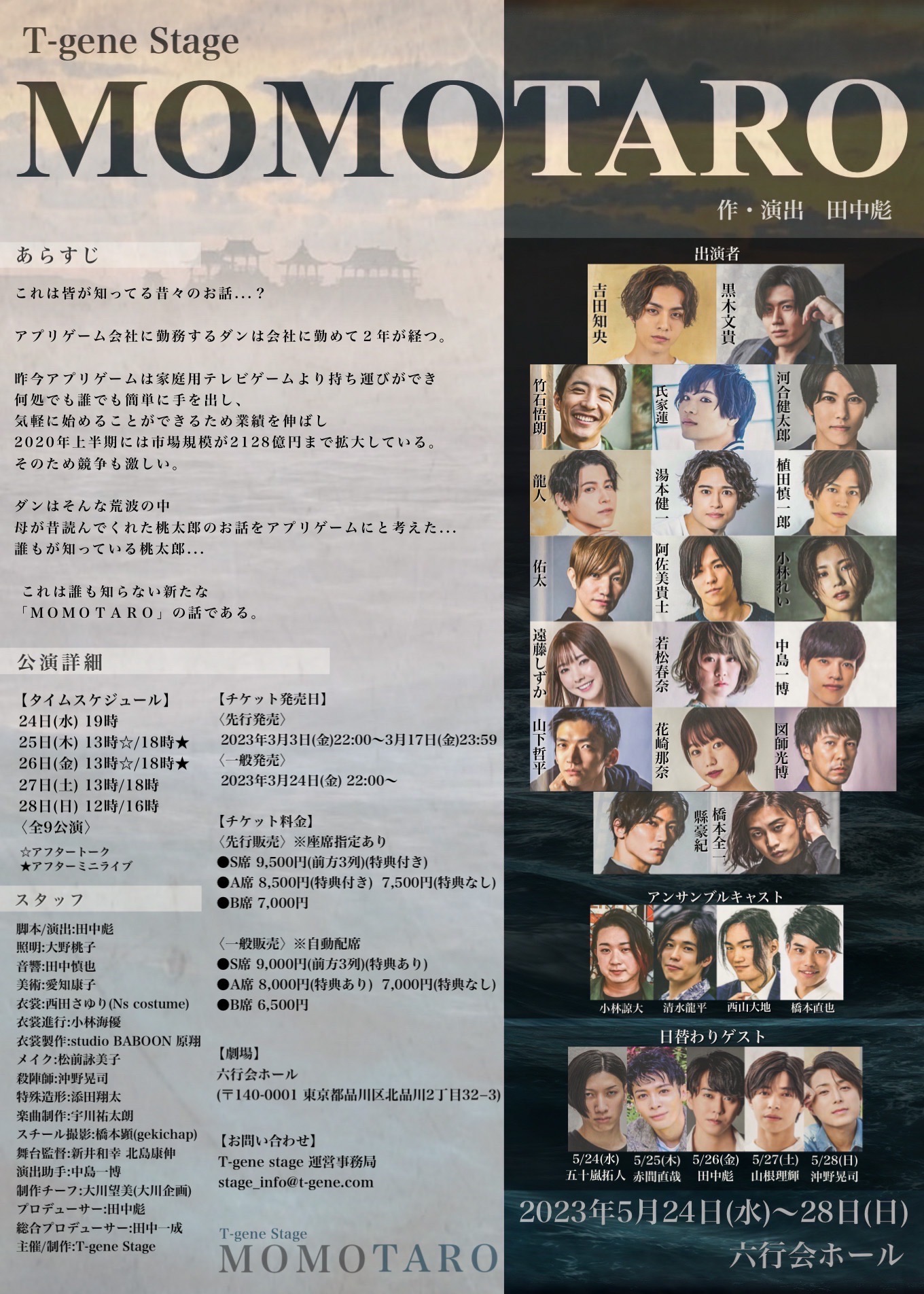 Part of this page is translated by machine translation API.
You can see the original information(Japanese).
Event and ticketing information
Date

2023/05/24(Wed) ~

2023/05/28(Sun)

Price

6,500

JPY ~

9,500

JPY(tax included)

Contact

T-gene stage運営事務局
TEL: 050-5326-7248 (Only in Japanese.)


Period of Sale

2023/03/24(Fri) 22:00 ~

2023/05/24(Wed) 23:59
---
Recommended related ticket list
---
Quick index of classification and regions
SEARCH
Performance category
Location region
---