Team Keychain 18th Main Performance "Rain, Clear"
teamキーチェーン第18回本公演
雨、晴れる
overview

May 2023
3rd (Wed/holiday) 14:00~19:00~
4th (Thu/Holiday) 14:00~19:00~
5th (Fri/holiday) 14:00~19:00~
6th (Sat) 14:00~19:00~
7th (Sun) 14:00~19:00~
8th (Mon) 14:00~
Moeka Ito, Kohei Misawa, Yoshiki Yamamoto, Shiho Takahashi, Kanade Okada, Yurie Kitazawa, Sana Takara, Kozue Morikawa, Hitoshi Kumano,
Amisa, Manabe Penguin, Akira Tokuoka, Yuya Imai, Kota Kamiya, Kyosuke Tsuda, Kiyoshiro Iwade, and Chinatsu Kawaguchi
Scriptwriter/Director Azuki, Art Director Yuya Nihira, Stage Director Hitoshi Matsumoto, Assistant Stage Director Kazuki Miyajima
Sound: Izumi Koda (Zero'sRecord), Sound Operator: Akiyoshi Gosai (Zero'sRecord), Lighting: Aoi Itakura (Light Vision)
Produced by Yukihane Yurina Tanaka, Photographed by yumeha shino, Assistant director Kanade Okada
Advertisement Art: Sana Kora, Web Advertisement: Yuya Imai, Studio Production: Manabe Penguin
[Group introduction]
A theater company launched in December 2011. Representative Azuki gathered the members at the time and formed it as a unit.
He continues to present original works on the theme of flowers and the language of flowers. A style that speaks without explaining much against the backdrop of Japan's four seasons, culture, and the world.
Human beings are involved in the fact that things happen in any event.
By looking at both sides of the event, we can turn to thinking instead of attacking.
Through my work, I want to convey the idea of thinking about events and thinking about people.
I continue to produce works, believing that the world will become peaceful if it spreads.
team key chain 18th main performance
This performance for the first time in about a year and a half
Recently, "LGBTQ" has been talked about in various places such as the media.
Minority people who feel that it is difficult to live
Majority people who feel oppressed by discrimination and prejudice Deepen understanding of minority people through works
I envision creating a world where all people can come together little by little and "live as they please."
This time
The theme is sexual minorities.
(*There may be words that are currently considered discriminatory terms below, but they are not written with a sense of discrimination. Please understand.)
Although it has become a hot topic these days, it is not a disease that was born recently.
People who have lived with a sense of incongruity with their gender identity for a long time, homosexuality,
People whose sexual orientation is considered unusual, such as bisexuality (there are many other asexuals, etc.)
There were people who liked different things, and various other people who struggled with the categorization of "gender".
In the past, we have been persecuted because of our wrong perceptions, and in the past, we have been discriminated against. Some discrimination continues today.
I think we should abolish discrimination that arises from a lack of knowledge, but the word LGBT is the only word that stands alone, and it is only forced by conscience.
To be honest, I sometimes have doubts about whether the results will turn out to be good if we focus too much on .
the stage of the story
A downtown izakaya lined with red lanterns that feels like the Showa era.
This store is filled with a variety of unique people, including regular women who are fighting for custody, mothers from okama bars, couples who are on good terms, college students, office workers, and office workers.
The store is always bright and fun. But everyone lives with complaints, anguish, and troubles.
each way of life. The difficulty and joy of living. Draw a world where you can "live according to your heart".
《Limited to those who purchase tickets at Confetti!》 》
[Moeka Ito, Kohei Misawa, Kanade Okada, Azuki] A special interview (3 series in total) is now available on Confeti Web Magazine !
Purchase by March 26th (Sun): You can read vol.1, vol.2, vol.3!
Purchases made by April 9th (Sun): You can read vol.2 and vol.3!
Purchase by April 23 (Sun): You can read vol.3!
*It will be delivered to those who have given permission for email delivery in the questionnaire when purchasing the ticket. *Interviewees are being adjusted. Delivery date and time are subject to change.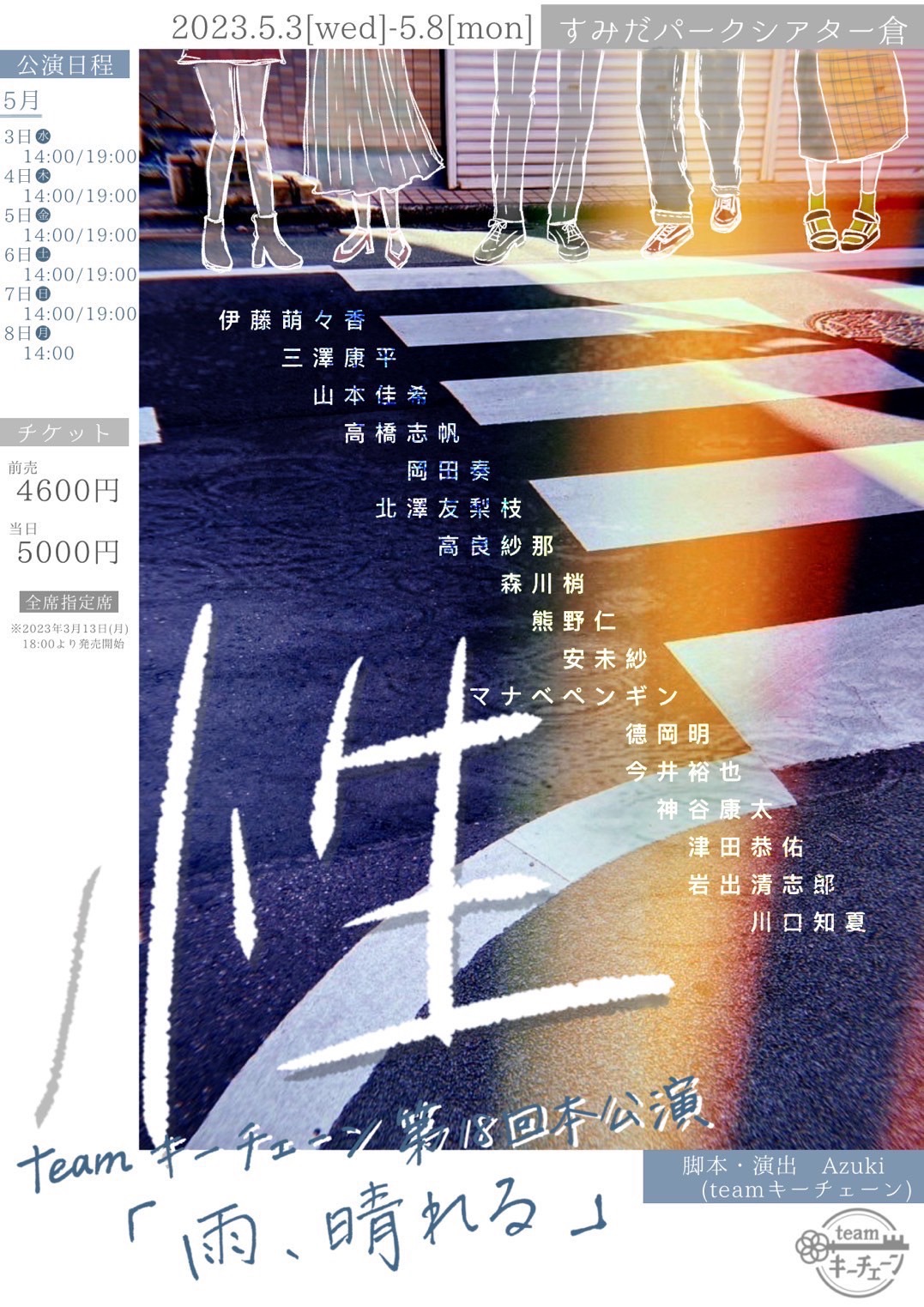 Part of this page is translated by machine translation API.
You can see the original information(Japanese).
Event and ticketing information
Date

2023/05/03(Wed) ~

2023/05/08(Mon)

Price

3,600

JPY ~

4,600

JPY(tax included)

Contact

teamキーチェーン
TEL: 080-1096-4760 (Only in Japanese.)


Period of Sale

2023/03/13(Mon) 18:00 ~

2023/05/08(Mon) 00:00
---
Recommended related ticket list
---
Quick index of classification and regions
SEARCH
Performance category
Location region
---