Moon shadows and pine trees are mementos, nostalgic
Noh 「MATSUKAZE」 KUWATA Takashi
桑田貴志 能まつり「松風」
overview

Greetings from Takashi Kuwata, who plays Matsukaze.
Matsukaze is said to be "Kumano, Matsukaze and rice." The Noh plays "Kumano" and "Matsukaze" are interesting no matter how many times you watch them.
There is also the phrase ``Uta Mii-dera, Noh Matsukaze''. In this way, "Matsukaze" is said to be one of the most famous and popular songs representing Noh, as it is described in various words.
In a nutshell, this Noh is a love story that lasts from the 9th century to the 1200th century. A romantic love affair with Matsukaze, who waits for Yukihira Ariwara, a nobleman of the capital of flowers, at Sumanoura, transcends time and continues forever. This eternal love story is beautifully depicted in the Noh play "Matsukaze."
In the first half, the young diver sisters appear in front of the traveling monk and show the gesture of drawing the tide. This paragraph is a famous scene so well made that it was later incorporated into various performing arts such as Kabuki and the Japanese dance ``Shiokumi''. The mesmerizingly flowing melody and the beautiful verses with noble words are truly splendid. I think it's the key to Noh "Matsukaze" if you can perform this paragraph properly. I want to play with all my heart.
In the middle of the Noh play, as he tells the traveling monk about his love affair with Ariwara no Yukihira, Matsukaze is overwhelmed with feelings of love. Then, he takes out the eboshi and dance costume that are Yukihira's keepsakes and embraces them emotionally. This dance is the highlight of the second half.
Dancing in men's costumes means dancing in men's clothing. In Noh, there are many genres of male dance, such as shirabyoshi dance, in Japanese performing arts. Even today, the Takarazuka Revue has inherited that style.
I, a man, play the female Matsukaze. And Matsukaze dances in men's clothing. The glamorous atmosphere created by this double transformation is the highlight of this Noh play.
This dance continues one after another with ``Iroe Kakarichu no Mai'', ``Kiri'' and ``Ha no Mai''. It is also difficult to balance the musical accompaniment, and it is a place where the ability as a Noh performer is tested. I want to use my skills to the fullest.
Noh "Matsukaze" Takashi Kuwata
Dance "Izutsu" by Yoshiyuki Kanze
"Funabashi" Yoshimasa Kanze
Kyogen "Bunga" Mansai Nomura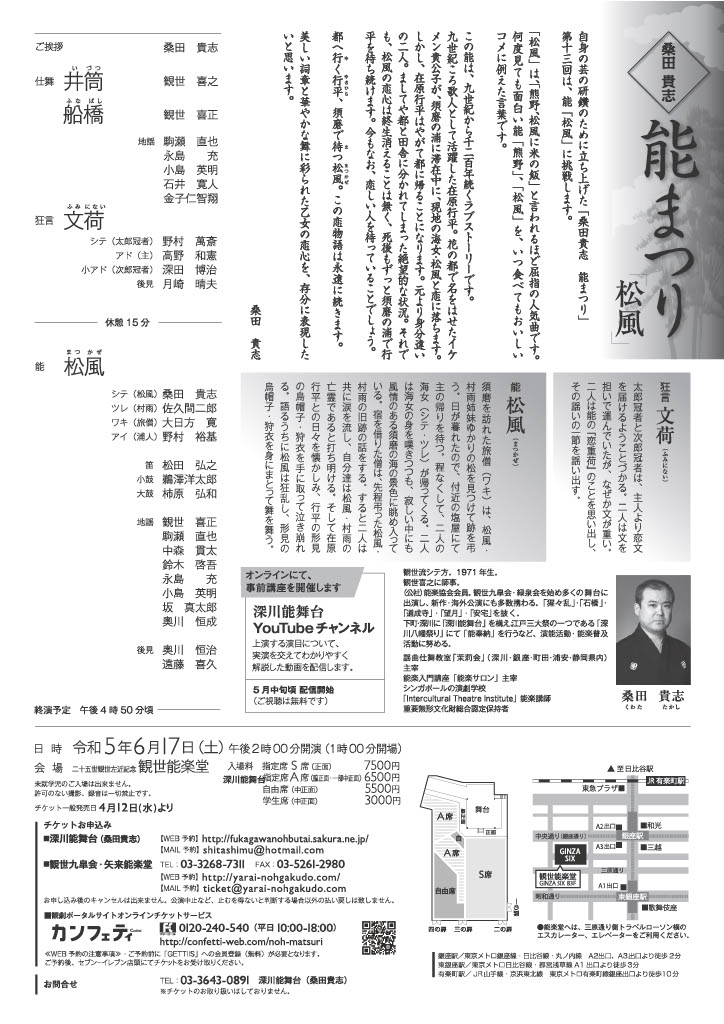 Part of this page is translated by machine translation API.
You can see the original information(Japanese).
Event and ticketing information
---
Recommended related ticket list
---
Quick index of classification and regions
SEARCH
Performance category
Location region
---