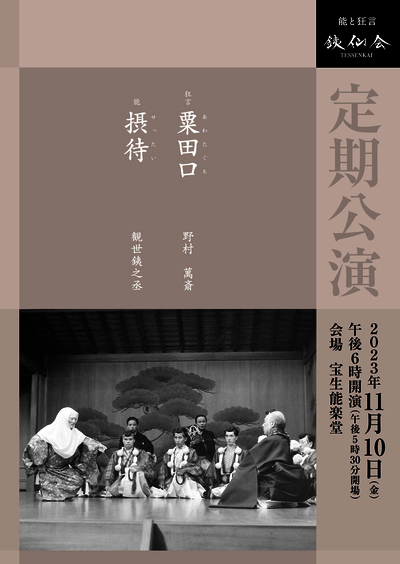 TESSENKAI Sponsored Performance
TESSENKAI Regular Performance in November
銕仙会(てっせんかい)主催公演
銕仙会定期公演〈11月〉
overview

Kyogen Awataguchi Mansai Nomura
Noh Settai Kanze Tetsunojo
Kyogen Awataguchi
The daimyo, who decided to compare the Awataguchi (sword inscription) to the popular tools of this time, did not know what it was, so he sent Tarokaja to the capital, but Kanja also had no idea what Awataguchi was. Then a suppa (swindler) who calls himself Awataguchi appears, and Kanja, who believes him, decides to take him home.
The daimyo is surprised to find out that Awataguchi is a human, and tries to compare it with the explanation written in the book, but...
Noh Settai
The 12 masters and servants, including Minamoto no Yoshitsune, disguised as Yamabushi, find a tag reading ``Yamabushi Settai'' on their way to Oshu. It was the mansion of Tsugunobu Sato, a loyal retainer of Yoshitsune who died in battle, but Benkei and his friends decided to stop by, pretending they were unaware.
At the mansion, Tsugunobu's mother, Roni, and Tsugunobu's orphaned son, Tsuruwaka, were waiting. The old nun said that she had started this meditative service to soothe the sorrow of losing her child, and she guessed the names of the people who were not revealing their identity one after another out of caution, and finally Tsuruwaka ran to Yoshitsune's lap. , the group finally reveals their true identity.
Benkei then tells Roni and Tsuruwaka about the brave final moments of Tsugunobu, who died in battle while protecting Yoshitsune, and also about the deeds of his younger brother Tadanobu, who took revenge for his older brother...
Noh depicts the love between parent and child and the relationship between master and servant, with a focus on storytelling. Settei is the same as ``entertainment,'' and here it means entertaining Yamabushi.
* Please apply for U25 tickets by phone ( 03-3401-2285 ).
*Due to circumstances, the program, performers, etc. may change without prior notice.
*Please refrain from coming by car as there is no parking lot at the venue.
*During the performance, entry and exit from the audience seats may be restricted.
* Acts that cause a nuisance to other customers, and bringing in dangerous goods and alcoholic beverages, are strictly prohibited.
*During the performance, please turn off any devices that produce sound, such as mobile phones, as they may interfere with the performance.
*Tickets cannot be canceled, exchanged for another performance, or refunded unless the performance is canceled due to force majeure such as a natural disaster.
[Performance homepage] http://www.tessen.org/schedule/regular/2023reg11
Kyogen Awataguchi
Shite Daimyo Mansai Nomura
Ad Taro winner Kazunori Takano
Small ad Suppa Taichiro Nomura
Guardian Ren Naito
Noh Settai
Shite Roni Kanze Tetsunosho
Kokata Tsuruwaka Kosuke Tanimoto
Tsure Minamoto no Yoshitsune Kanze Atsuo
〃 Kanefusa Masuo Takao Nishimura
〃 Juro Washio Minoru Shibata
〃 Yoshitsune Noro et al. Shintaro Saka
〃 〃 Takayuki Matsuyama
〃 〃 Otoharu Sakai
〃 〃 Ototaka Sakai
〃 〃 Kohei Kawaguchi
〃 〃 Yasuteru Kobayakawa
〃 〃 Takayasu Ando
〃 〃 Otomasa Sakai
Armpit Musashibo Benkei Hosho Kinya
Ai Sato no Genin Hiroki Nomura
Flute Hiroyuki Matsuda
Kotsuzumi Shinkuro Kanze
Otsuzumi Jun Kunikawa
Chiuta Fumiyoshi Asai
Osamu Kobayakawa
Masaki Umano
Jiichi Asami
Masaichiro Izumi
Takahiro Kitanami
Keizo Nagayama
Hikaru Uzawa
Guardianship Kanji Shimizu
Hisashi Uzawa
Kengo Tanimoto
Part of this page is translated by machine translation API.
You can see the original information(Japanese).
Event and ticketing information
Location

Hosho Noh Theater
宝生能楽堂
Access »

Date

2023/11/10(Fri)

18:00

Price

4,000

JPY ~

6,500

JPY(tax included)

Contact

公益社団法人 銕仙会(てっせんかい)
TEL: 03-3401-2285 (Only in Japanese.)


Period of Sale

2023/07/18(Tue) 10:00 ~

2023/11/10(Fri) 16:00
---
Recommended related ticket list
---
Quick index of classification and regions
SEARCH
Performance category
Location region
---
Past related ticket List
---