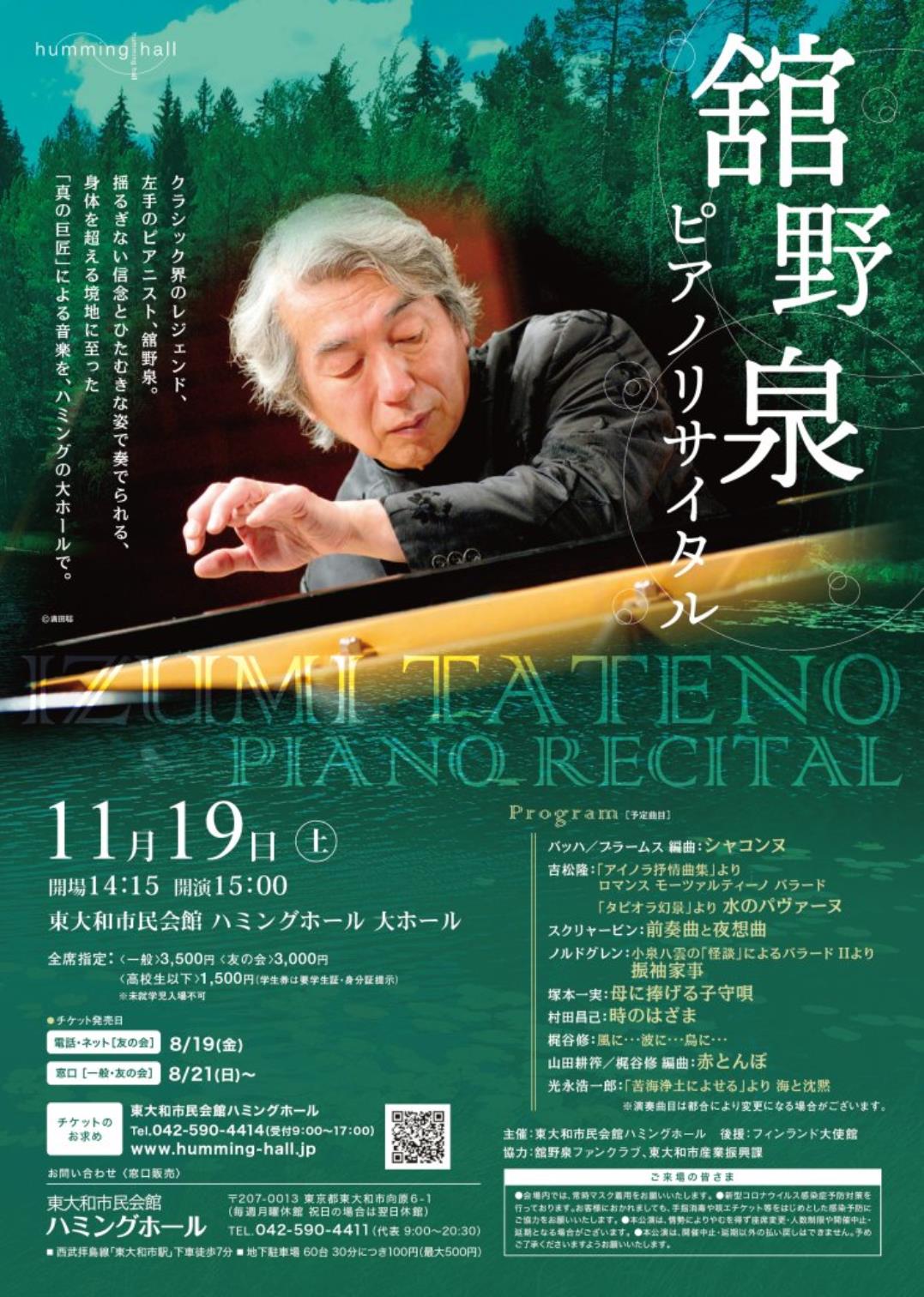 舘野泉ピアノリサイタル
Appearance

Izumi Tateno (piano)
program
Bach/Brahms Arr. Chaconne
Takashi Yoshimatsu / From "Ainola Lyric Collection Op.95"
romance
mozartino
ballad
From "Tapiola Illusion Op.92"
water pavane
Scriabin / Prelude and Nocturne Op.9
Furisode Housework from Nordgren/Yakumo Koizumi's "Ghost Story" ballad II Op.127
Kazumi Tsukamoto / Lullaby Dedicated to Mother
Masami Murata / Between Time
Osamu Kajitani / In the wind...in the waves...in the birds...
Kosaku Yamada (Arranged by Osamu Kajitani) / Red Dragonfly
Koichiro Mitsunaga / Sea and Silence from "Kurumi Pure Land"
Overview
"Izumi Tateno Piano Recital"
Saturday, November 19, 2022
Doors open 14:45 Start 15:00 Main Hall
General: 3,500 yen Tomonokai: 3,000 yen Students: 1,500 yen
* Preschoolers are not allowed to enter

Organizer: Higashiyamato Civic Center Humming Hall
Supported by: Embassy of Finland
Cooperation: Izumi Tateno Fan Club, Higashiyamato City Industrial Promotion Division

*Wheelchair seats can be reserved by phone (042-590-4414) or at the Humming Hall window.


※※※※※Please be sure to read it※※※※※※※※※

・As the situation changes day by day, there may be cases where the seats are different from the initial promise (seat change, performance cancellation, postponement, etc.). We kindly ask for your understanding before applying.

・Up to 6 tickets can be reserved per person.

・Of the 6 tickets, members of the Tomonokai can purchase up to 4 tickets at the Tomonokai member price for this performance. The remaining two are available at regular prices.

・Reservations cannot be canceled or refunded except for the cancellation or postponement of the performance.


*This performance does not sell the Zama space.
We cannot accept seat changes on the day.

* When visiting, please wear a mask and take measures to prevent infection.



※※※※※※※※※※※※※※※※※※※※※※※※
Release information
Tomonokai 8/19 (Fri.)
(On sale at the counter) Tomonokai / General 8/21 (Sun)
*Please see the official site for details.

* If you would like a wheelchair seat, please contact us by phone.
Higashiyamato Civic Center Humming Hall 042-590-4414 (9:00-17:00)

Part of this page is translated by machine translation API.
You can see the original information(Japanese).
Event and ticketing information
---
Recommended related ticket list
---
Quick index of classification and regions
SEARCH
Performance category
Location region
---
Past related ticket List
---