Track ,Travel ,Trap ,Trance
TIGER TATEISHI : The Retrospective
トラック、トラベル、トラップ、トランス
大・タイガー立石展
Overview

Temporary closure of the Aomori Museum of Art (September 1st to September 30th)
Aomori Museum of Art is to prevent the spread of the new coronavirus infection
The museum will be closed from September 1st (Wednesday) to September 30th (Thursday).
Therefore, this exhibition, which was scheduled to be held until September 5th (Sun), will also be held.
It will end on August 31st (Tuesday).
Regarding refunds for tickets that have already been purchased, as soon as the details are decided,
Information will be posted on the Aomori Museum of Art website. Please wait for a while until the information.
We apologize for the inconvenience, and thank you for your understanding.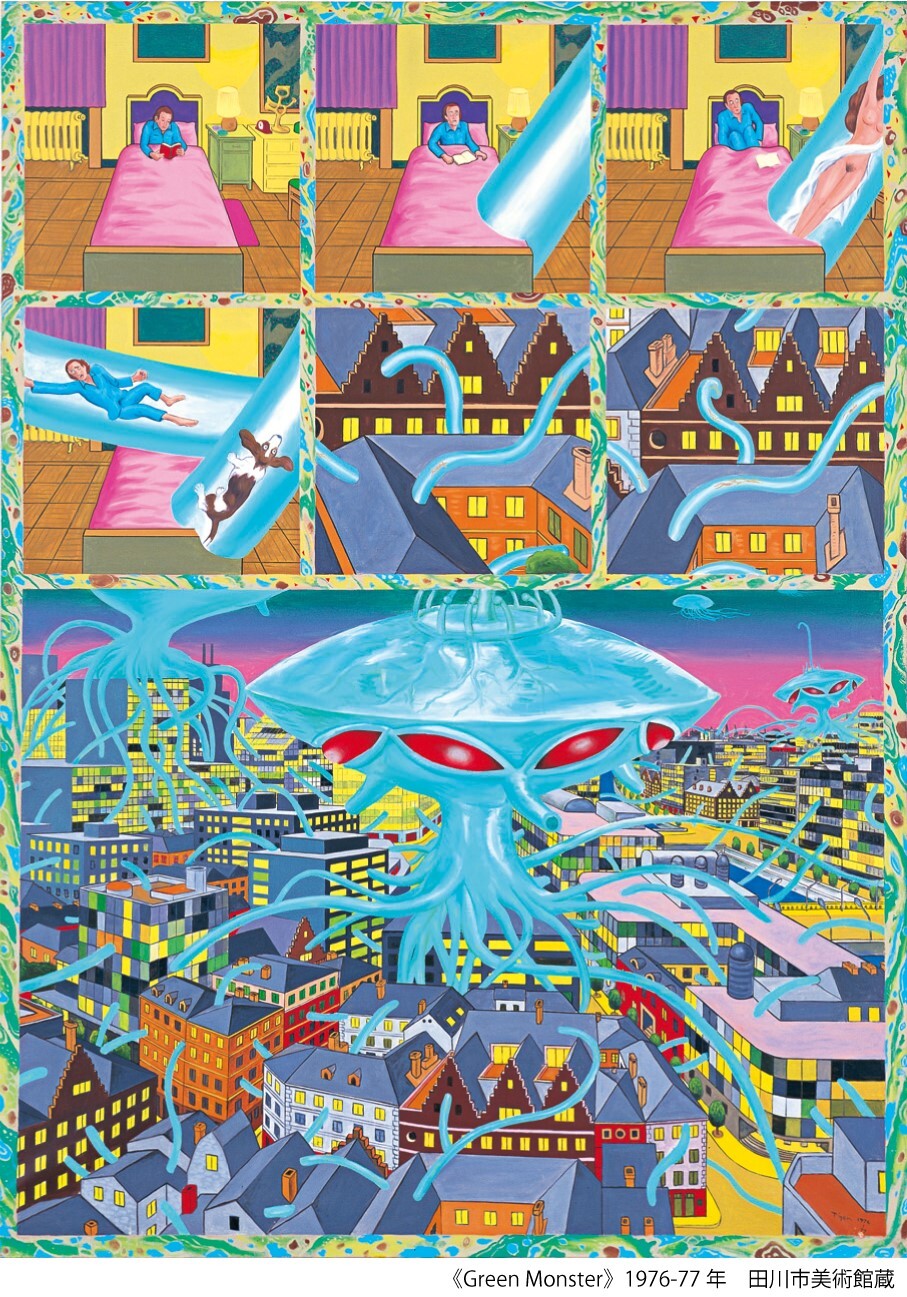 Biography of Tiger Tateishi (Koichi Tateishi / Akira Tateishi)
Born December 20, 1941 in Tagawa City, Fukuoka Prefecture (real name: Koichi Tateishi)
1963 (Showa 38) Graduated from Musashino Art Junior College, Department of Performing Arts Design. Exhibited at "15th Yomiuri Independent Exhibition" (Tokyo Metropolitan Art Museum).
1964 (Showa 39) Held the first solo exhibition "Koichi Tateishi Cumulative Civilization Exhibition" (Ginza Sato Gallery). Established "Tourism Arts Institute" with Hiroshi Nakamura.
1968 (Showa 43) Renamed to Tiger Tateishi. Since this time, he has been active as a manga artist.
1969 (Showa 44) Moved to Italy (Milan). Invented "frame-breaking painting".
1971 (Showa 46) Obtained a job at Olivetti due to the treatment of Ettore Sottsass.
Returned to Japan in 1982 (Showa 57). Actively active in publishing manga works, publishing picture books, and holding solo exhibitions.
1990 (Heisei 2) Renamed to Tateishi Okawa.
1994 (Heisei 6) The first retrospective exhibition "Tateishi Okawa 1963-1993 Chikuho, Milan, Tokyo, and ..."
It will be held at the Tagawa City Museum of Art (Fukuoka) in my hometown.
He died on April 17, 1998 (56 years old).
1999 (Heisei 11) First retrospective exhibition after his death "Metamorphose Tiger Tateishi Taiga and Walking in the Labyrinth" (O Museum),
"Tateishi Okawa Akira Exhibition THE ENDLESS TIGER" (Tagawa City Museum of Art) will be held.
Session
July 20, 2021 (Tuesday) -September 5, 2021 (Sunday)
closing day
July 26th (Monday) and August 23rd (Monday)
Opening hours
9: 30-17: 00 (admission until 16:30)
* August 14th (Sat), 15th (Sun), 20th (Fri), and 21st (Sat) will be held at the Night Museum from 9:30 to 20:00 (admission is until 19:30).
(It may be changed depending on the situation such as corona damage)
Admission fee
General 1,500 yen (1,300 yen), high school students 1,000 yen (800 yen), junior high school students and younger free
* () Is the Web ticket price.
* Free of charge for persons with physical and mental disabilities and one attendant.
Ticket sales
--Ticket purchase at the general information desk You can purchase same-day tickets at the general information desk.
--Purchase of WEB tickets on the ticket sales site "GETTIIS"
(Note) The purchase period is from June 9th to September 5th at 16:30.
[Ticket sales site URL] https://www.gettiis.jp/event/detail/100007/daitiger
* Payment can only be made by credit card (VISA, Master Card).
* The admission fee for web tickets is 1,300 yen for general students and 800 yen for high school students.
* A separate fee (165 yen / sheet) will be borne by the customer.
* A special ticket (decachike) will be presented when you enter with a WEB ticket.
* Please present the QR code that will be displayed after completing the procedure when you enter the museum or the exhibition room.
* If you purchase more than one person, a QR code for each person will be issued to the purchaser. If the admission time is different,
Please give each person a QR code one by one. (It is convenient to send a screenshot of the screen.)
* For smooth entry, it is recommended to save the QR code on the screen as a screenshot in advance.
* Cancellations, changes, and refunds are not possible after purchasing the ticket.
* It is different from the reserved date and time, so even if you purchase in advance, please wait depending on the congestion situation.
Please note that it may be possible.
* You can only enter from the 2nd entrance.
* After temperature measurement / hand disinfection, please take the elevator to the 2nd basement floor without purchasing a ticket at the general information.
Let the machine read the QR code at the entrance of the special exhibition.
* Please receive a special ticket (decachike) at the time of admission.
* A special ticket (decachike) is required for re-entry, so please keep it until you return.
* People who purchase Web tickets can purchase the collection exhibition at the counter for 410 yen for general students and 240 yen for high school students.
Inquiries
185 Yasuta Chikano, Aomori City 038-0021
Large Tiger Tateishi Exhibition Aomori Executive Committee (inside Aomori Museum of Art)
TEL 017-783-3000 FAX 017-783-5244
Organizer
Tiger Tateishi Exhibition Aomori Executive Committee (Aomori Museum of Art, Aomori Broadcasting Corporation, Aomori Prefecture Tourism Federation), Yomiuri Shimbun, Museum Liaison Council
Sponsorship
Lion, DNP Dai Nippon Printing, Sompo Japan
Special cooperation
ANOMALY
Cooperation
Aoimori Railway, JR East Aomori Commercial Development
Sponsorship
Aomori Cable TV, Tooku Nihonsha, Daily Tohoku Shimbun, Rikuoku Shinposha, Aomori Prefectural Board of Education
Part of this page is translated by machine translation API.
You can see the original information(Japanese).
Event and ticketing information
Date

2021/07/20(Tue) ~

2021/09/05(Sun)

Price

800

JPY ~

1,300

JPY(tax included)

Contact

大・タイガー立石展青森実行委員会(青森県立美術館内)
TEL: 0177833000 (Only in Japanese.)


Period of Sale

2021/06/09(Wed) 09:00 ~

2021/08/31(Tue) 16:30
---
Quick index of classification and regions
SEARCH
Performance category
Location region
---
Past related ticket List
---